Return to Headlines
Baltimore City Community College Athletics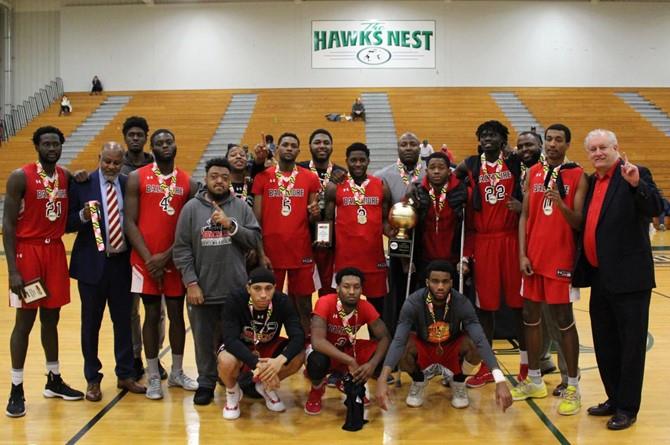 BCCC's intercollegiate athletic teams have a long tradition of combining success on the playing field with academic achievement in class. Year after year Baltimore City Community College continues to be one of the most competitive schools in the region.
BCCC's competes in the National Junior College Athletic Association Region 20 (NJCAA) and is a member of the Maryland Junior College Athletic Conference (MDJUCO) in all sports. BCCC fields athletic teams in Men's Basketball, Men's Cross Country, Women's Basketball and Women's Cross Country.
In 2018, the Men's team captured the National Junior College Athletic Association District III men's basketball championship.
In February of 2018, Women's Basketball Coach Tara A. Owens was selected as The Maryland JUCO Women's Basketball Coaches Association Coach of the Year. Owens has been the Panthers' head coach for five seasons and has received Coach of the Year honors three of those five years. This year Owens led the team to a 10-1 conference record and 21-6 overall record. Her overall record at Baltimore City Community College is 103-44.
Mission Statement
The mission of Intercollegiate Athletics, an integral part of the Division of Student Affairs, is to encourage and promote the total academic and athletic development of students, faculty, and staff. In the promotion of total fitness development, the Department of Intercollegiate Athletics reflects its commitment to excellence in customer service and the highest standards of excellence, integrity and professionalism.
Philosophy
Intercollegiate athletics provide unique and valuable experiences in the total educational program. They contribute significantly to the development of the individual student and provide excellent opportunities for growth, self-realization, and fulfillment of personal and group potential.
The philosophy of Baltimore City Community College embraces the concepts of the "student-athlete" being a "student" first, as well as, the principle of gender equity and requirements of Title IX. BCCC is committed to providing equivalent opportunities for men and women. The department monitors the academic progress of its student-athletes, to provide maximum educational opportunities and to ensure compliance with NCJAA regulations.
BCCC expects coaches and players to approach competition with values of honesty, fairness, respect, and passion.
For additional information, please contact Athletics at 410-462-8320.