BCCC Celebrates Bold New Partnership with Bowie State University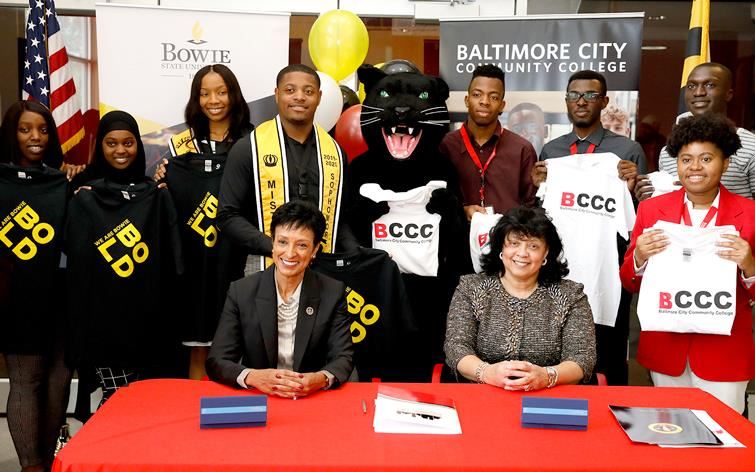 (Nov. 6, 2019) – Bowie State University (BSU) President Aminta H. Breaux, Ph.D. and Baltimore City Community College (BCCC) President Debra L. McCurdy, Ph.D. came together yesterday to announce a comprehensive partnership to enable more BCCC students to transfer seamlessly to BSU to earn a four-year degree and receive specialized scholarships, marking the first such agreement between the institutions.

In a signing ceremony held at BCCC, more than 50 administrators, faculty, staff and students were on hand from both schools to help celebrate the new partnership.
Under the agreement, BCCC students will be able to transfer into 12 comparable academic programs at BSU to complete their bachelor's degree in a supportive educational environment. A unique feature of the agreement enables select students in the BCCC Honor's Program to transfer into the BSU Honor's Program and receive a full scholarship covering in-state tuition and fees.
Over the past year, teams from both schools worked closely together to map out the agreement, which also includes provisions for reverse transfer, financial aid and a commuter scholarship, demonstrating BSU's commitment to making college more accessible. Plus, the 30-mile commute to BSU can be as easy as a 30-minute MARC train ride from Penn Station to a stop on the university campus.
"Together with Baltimore City Community College, Bowie State University is advancing our Racing to Excellence strategic plan and vision, creating new collaborative educational partnerships. This partnership will build a meaningful pathway for BCCC students to continue their educational pursuits in innovative academic programs for today's workforce," said BSU President Aminta H. Breaux. "I want to thank BCCC President McCurdy and her administration for working with the Bowie State team to establish this important partnership to invest in the educational future of Baltimore students."
Intentionally designed to allow inclusion of more programs in the future, administrators from both schools believe the scope of the agreement can serve as a model for other schools. During the ceremony, BCCC President McCurdy applauded BSU's reputation for delivering high-quality, innovative programs. She also spoke of the many benefits BCCC students will receive through the new partnership.
"Articulation agreements like the one we celebrated today – that encompass not just one or two, but 12, academic programs – make an invaluable difference in helping our students persist and achieve their goals in higher education, so that they can go on to build a better life for themselves. That is the very reason we are all here," McCurdy said. "This is going to be one great model in the state (of Maryland) that we can continue to build on."
Education, Nursing, Psychology, Business Administration and Computer Technology are among the 12 programs included in the agreement. To learn more about the scope of programs, read the full agreement here.