BCCC Partners with Facebook to Launch Digital Marketing Certificate
November 14, 2018
Six new courses designed by Facebook will open a marketing door for many BCCC students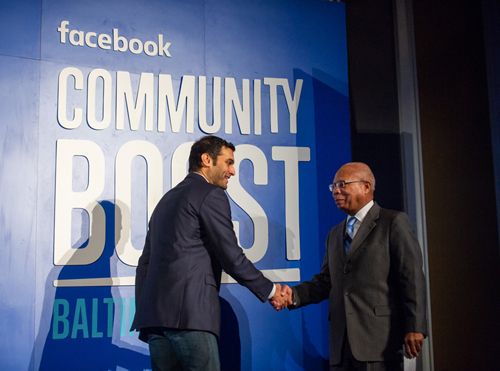 At the launch of Facebook's three-day Community Boost event on Monday, Interim President Dr. James H. Johnson, Jr. announced the College's partnership with Facebook to add a Digital Marketing Certificate to the College.
"This is just another example of the BCCC leveraging a partnership to bring a broader range of offerings to our students. The Digital Marketing Certificate will provide our students the skills they need to compete in the digital world," Dr. Johnson said.
Ash Jhaveri, Vice President, Business Development, said Facebook is continually looking for ways to leave a lasting impact and that partnering with community colleges is a great way to provide accessible educations to broad constituency of students.
"Community colleges are nimble parnters and able to incorporate new offerings quickly and efficiently," Jhaveri said. "This program will offer Baltimore business owners and job seekers access to ongoing training and preparation to compete for jobs in the digital economy."
BCCC is one of 20 community colleges around the country that are partnering with Facebook on the new certificate. The certificate is still being designed, but at its core will be six three-credit courses for which Facebook has designed the curriculum.
Maryland is home to nearly 600,000 small businesses that employ more than one million people. For these businesses to thrive in today's economy, it's critical that they build and maintain an online presence. This massive need creates opportunities for students and jobseekers alike.
As with any BCCC program, students will receive technical instruction as well as lessons in the soft skills they need to be maneuver through the job market and job place.
"We work hard to ensure that not only do our students have the hard skills they need to excel in the workforce," says Dr. Johnson, "but they also have the personal skills they need to be productive members of any team with which they work."