2019 40th District End of Session Forum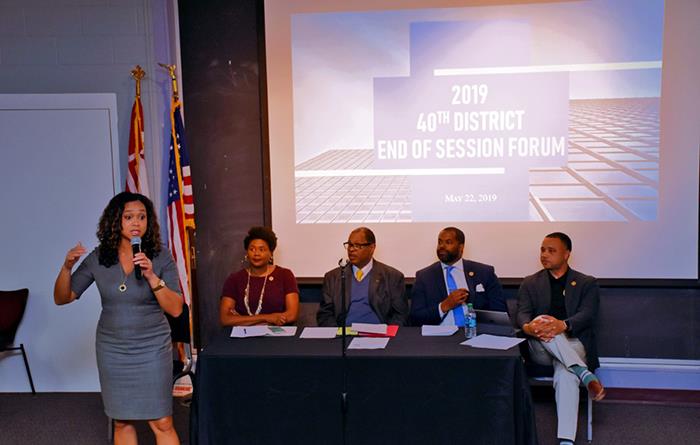 May 23, 2019
Baltimore City Community College (BCCC) hosted the 2019 40th District End of Session Forum on May 22, which included presentations by Senator Antonio Hayes and Delegates Mellissa Wells, Nick Mosby and Frank Conaway, Jr. Dr. BCCC President Debra L. McCurdy gave welcoming remarks and the event drew about 50 community members.
Senator Hayes, a freshman senator, highlighted his work with the Senate Finance Committee, which oversees areas of legislation in health care facilities, transportation, utility regulations, banking and other financial institutions, and State personnel.
Hayes, who also chairs the six-member Baltimore City Senate Delegation, sponsored and co-sponsored 126 bills during the 90-day legislative session. Among the key bills he sponsored were a bill to limit the sale of loose cigarettes and a bill to ensure transparency and fairness in health insurance. He also sponsored legislation making it easier for craft breweries to do business and helped acquire more than $51 million in budget initiatives for institutions in the 40th District, including $874,000 for BCCC's Loop Road project.
Delegate Nick Mosby spoke about his work with the House Ways and Means Committee and his efforts to increase high-quality education, reduce crime and help make Baltimore a safe and prosperous city.
Mosby's legislative highlights include a bill to increase the minimum wage to $15 by 2025, his Ban the Box bill, which prohibits disclosures of a job applicant's criminal history prior to an in-person interview and budget initiatives including support for Lexington, Hollins and Avenue Markets, WYPR, and the Maryland Zoo.
Freshman Delegate Melissa Wells shared her legislative highlights, which included her focus on affordable living, supporting healthy communities, education, improving neighborhood safety, and community development.
Wells also touted her work to support legislative agenda items, including a bill to study Baltimore's Department of Transportation, property tax credits for low-income City employees, and an expanded childcare tax credit.
Delegate Frank Conaway, Jr. spoke about his work with the Judiciary Committee and the work his committee has done with police reform and criminal justice reform including legislation to support tighter gun control.